Exterior Panel - Micro Type
MICRO TYPE
The small corrugation Sandwich Panels offer unique and distinctive features compared to regular wall panels. With ribs measuring 25 mm, they create a visually appealing pattern on the walls, even without additional decorative finishes. Moreover, the corrugation surface enhances the strength of the sandwich panels and naturally conceals the joints of the Secret joints, providing a seamless appearance.

MATERIAL SURFACE
The material is made of galvanized steel and coated with two layers of polyester This results in the durability of the panels and is suitable to use in high humidity conditions such as cold storage. Small corrugations on the surface of the wall not only give it an attractive appearance. but also enhances the integrity of the structure and strength with its natural appearance.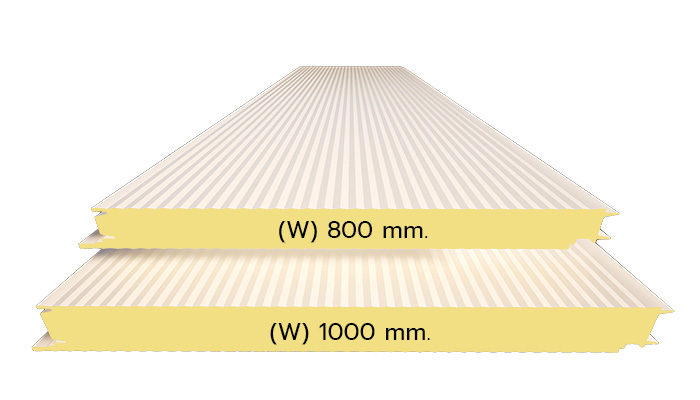 Technical Information of Sandwich Panel
Product Name :
Double Micro Skin Insulated Sandwich Panel 
Application :
Ceiling , Wall, Clean Room, Cold Room, Warehouse
Available Thickness :
50, 75, 100 mm. 
Thermal Conductivity :
0.0176 Kcal/m2 hr.
o
C 
Interior :
PPGI with 100 microns PE Protection film 
Exterior :
PPGI with 100 microns PE Protection film 
Joints :
Secret joints
Orientation :
Vertical or horizontal
Core Material
Material :
Polyisocyanurate(PIR) Foam