Interior Panel - Mesa Type
MESA TYPE
Alternatively, the "large corrugations " feature can be used to describe the exterior surface of Sandwich Panel walls, which have 50mm wide ribs on the surface of the panel. The rib design is optimized to fit seamlessly with the Slip joints, ensuring a smooth and aesthetically pleasing appearance without visible joints.

MATERIAL SURFACE
Made of galvanized steel and coated with two layers of polyester, this material exemplifies remarkable durability, allowing it to thrive in high humidity conditions, including cold storage. The corrugations not only enhance its strength but also add a touch of aesthetic appeal. Its standard smoke white color complements any environment effortlessly.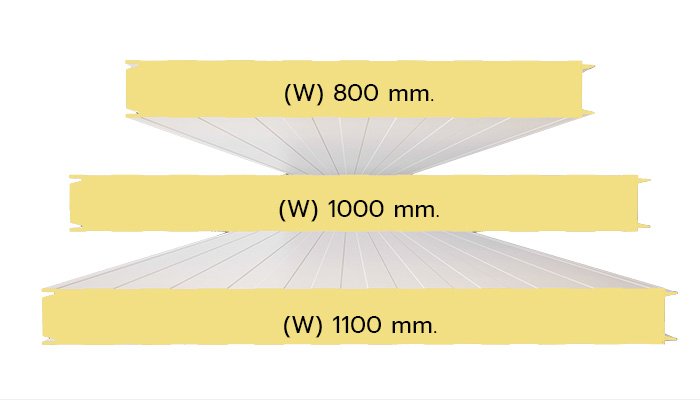 Technical Information of Sandwich Panel
Product Name :
Double Mesa Skin Insulated Sandwich Panel 
Application :
Ceiling , Wall, Clean Room, Cold Room
Available Thickness :
42 , 50 , 75 , 100 , 125 , 150 , 175 , 200 mm. 
Thermal Conductivity :
0.0176 Kcal/m
2
hr.
o
C 
Interior :
PPGI with 100 microns PE Protection film
Exterior :
PPGI with 100 microns PE Protection film 
Joints :
Slip Joints
Core Material
Material :
Polyisocyanurate(PIR) Foam