Interior Panel - Micro Type
MICRO TYPE
Alternatively, the term "Small corrugations " can be used to refer to the outer surface of the Sandwich Panel wall, which features a 25 mm wide protrusion designed to fit seamlessly into slip joints. This design enhances the wall's strength , effectively conceals the joint for a smooth and seamless appearance, and is easy to install and dismantle.

MATERIAL SURFACE
A material made of galvanized steel coated with two layers of polyester, making it durable even in high humidity environments such as cold rooms. The surface is corrugated, with small dimensions, allowing for quick drainage of dirt or moisture that may accumulate on the walls.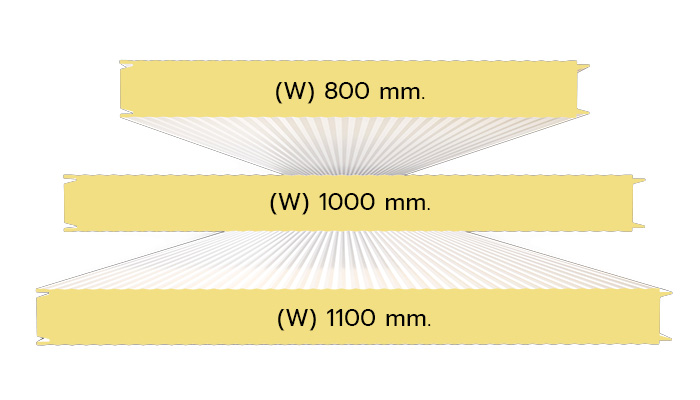 Technical Information of Sandwich Panel
Product Name :
Double Micro Skin Insulated Sandwich Panel 
Application :
Ceiling , Wall, Clean Room, Cold Room
Available Thickness :
42 , 50 , 75 , 100 , 125 , 150 , 175 , 200 mm. 
Thermal Conductivity :
0.0176 Kcal/m
2
hr.
o
C 
Interior :
PPGI with 100 microns PE Protection film 
Exterior :
PPGI with 100 microns PE Protection film 
Joints :
Slip Joints
Core Material
Material :
Polyisocyanurate(PIR) Foam